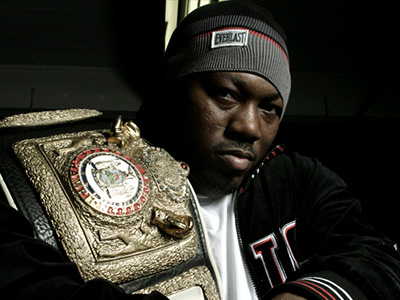 Rahzel, born Rahzel M. Brown, is an American musician. He is a hip hop MC who specializes in beatboxing (he calls himself a 'vocal percussionist'). He is probably best known as a member of The Roots. He is also called "the Godfather of Noyze".
Growing up in the Bronx, Rahzel went to Grandmaster Flash's shows regularly and later became a roadie of the Ultramagnetic MCs. He was also influenced by artists like Doug E. Fresh, Biz Markie, Bobby McFerrin, Buffy of the Fat Boys, and Al Jarreau.
Rahzel has expanded the art of beatboxing in a unique way, creating vocal beats while singing lyrics simultaneously, as is best displayed by his famous a cappella performance of "If Your Mother Only Knew" (an interpretation of Aaliyah's song "If Your Girl Only Knew") of which an MP3 is in wide circulation.
Rahzel has been performing live with musician and vocalist Mike Patton (Faith No More, Fantômas, etc.) as "Patton & Rahzel".
Rahzel released his album Make The Music 2000 in 1999 on the MCA record label, followed by the 2004 release of the album Rahzel's Greatest Knockouts for Sureshot Recordings on which he collaborates with many other artists.
In 2004, Rahzel collaborated with Björk and other beatboxers for her album Medúlla. His beatboxing skills are also featured on The Crystal Method's album Legion of Boom, in which he provides the vocals for the song "The American Way" and others on the album.